Is it a struggle to paint flesh tones without the colors getting muddy?
Have you ever wondered how to paint a background that doesn't look out of place or messy, but works well with the person you're painting?

Do you find it hard to capture a person's likeness?
Is using a glaze or layering technique mysterious and would you like to learn how to do it right?
In the "Paint Your First Amazing Acrylic Portrait" course, you will learn how to:
Pick the right paints, brushes and mediums for the job
Properly grid your reference photo and canvas to get the proportions right in your sketch
Lay down the correct base colors, combining them to get the right mix, and then build up realistic skin tones, both in the shadows and highlights without getting it muddy.
Use the Old Master's glazing technique to create smooth, even blends of color and value
Capture a recognizable likeness and paint with just enough detail to make the portrait realistic and lifelike.
Correctly varnish your portrait to enhance the appearance and protect it.
And there is more!
Something that makes this course different than just about every other online painting course I've seen is that that you will get up to 4 personal critiques via email (at your request) for the first month after you enroll. This way, if you're stuck in a certain area in your painting, you're not just sitting there wondering what to do next. I'll show you the next step to take. Now...
Here's some feedback on Facebook from a local painting student that benefited from personal critique...
"Took a photo realism acrylics class, this is my first attempt at painting. Thank you Matt Philleo at Artisan Forge Studios for teaching me how to do this! — with Matt Philleo."

Holly sure enjoyed learning how to paint her first acrylic portrait. I bet she also enjoyed all the wonderful feedback on her painting from her friends. :) And I'm sure this will be just the start of her painting adventures!

I know that you will enjoy increasing your skills and creating an incredible portrait in acrylic too.
Here's some feedback I've received from my students, just a few from dozens of emails...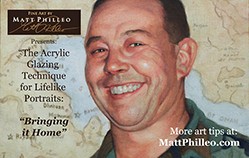 ---
I watched your recent videos with the highlights and it really helped not to use a paint-by-numbers approach where every color is put in place one piece here and one piece there. I colored the whole face with a skin tone and started to add the light with very thin layers and I liked how it turned out. So that (video) really helped.

Karen Hill

To enroll, simply purchase the course on this page and fill in the appropriate information. After that, you are all set! You can immediately start watching the lessons and learn how to paint a portrait confidently.
Once enrolled, you will have lifetime access to all content in the course.
Originally, this course was taught live, but now all lectures have been recorded and you can play them back as much as you would like for as long as you'd like.
Let me know if you have any questions. I look forward to the opportunity of teaching you!
Blessings,
P.S. If you feel that after taking the course, your portrait painting abilities haven't significantly improved, just email me within 30 days, and I'll see to it that you get a prompt refund. So, there's no risk to you. Enroll today and take your paintings to a new level!